Dental veneers are one of the most popular cosmetic dental options available. As the name suggests, it essentially comprises an ultra-thin laminate of tooth-coloured material that is applied to the surface of front teeth.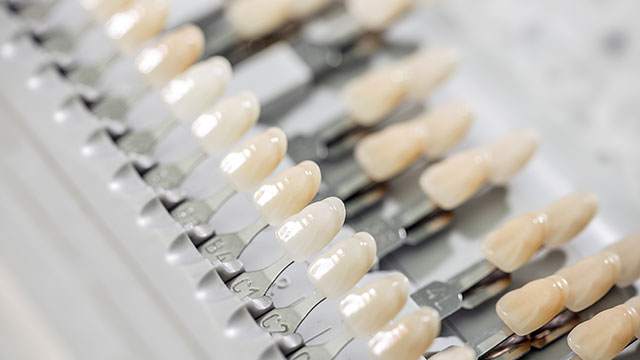 Dental veneers offer a non-surgical, minimally invasive technique to make your smile look more bright, natural and healthy looking. If you are not completely satisfied with the appearance of your teeth and smile, dental veneers can deliver a fast and effective smile makeover with amazing results.
The primary purpose of applying dental veneers is to conceal whatever cosmetic dental flaws or imperfections you may have by covering the front surface of your teeth. Besides transforming your smile without the need for complex surgery, the laminate shells also protect and strengthen your underlying teeth from wear and tear.
The simple veneering treatment, which usually requires around 2 – 3 dental appointments, is highly versatile being able to correct a wide variety of dental aesthetic issues including bite problems, crooked teeth and worn out teeth.
Which Types of Patients Need Veneers?
Our dentists may recommend dental veneers if you wish to enhance certain aesthetic aspects of your teeth and smile. While the procedure can be performed very quickly and easily, the results can look very natural and aesthetic, especially if administered by our experienced dental team.
However to be considered a good candidate for dental veneers, your teeth must generally be in good health. Any underlying dental problems such as tooth decay or gum disease must be addressed prior to the cosmetic procedure. In order for the veneers to be properly anchored, you should also have sufficient enamel, which is critical for a successful outcome.
Here are some of the common aesthetic applications for dental veneers:
Cover crooked or unevenly spaced teeth (diastemas);
'Straighten' or 'lengthen' teeth for a well-balanced and symmetric smile;
Hide stained teeth
Conceal discoloured fillings
Cover worn down teeth
Why Should People Choose Dental Veneers Compared to Other Treatments?
Dental veneers offer a versatile and effective method to quickly address a host of cosmetic dental issues, which can be especially useful when the alternative involves a lengthier or more patient-involved procedure. Here are two of the most common situations in which some patients may prefer dental veneers over other traditional methods of dealing with an aesthetic issue:
Tooth Discolouration: Dental Veneers vs Teeth Whitening
Teeth whitening may still be the way to go if you have mildly discoloured teeth that require professional bleaching to get rid of the yellowish stains. However, dental veneers may be more suitable if you need to correct more challenging discolourations; improve the shape or position of your teeth; cover a chip or crack; or tackle a host of similar problems with a single procedure. In cases where there are multiple aesthetic issues, it may be more worthwhile to apply the thin laminates as a total cosmetic solution.
Correcting Misalignment/Gaps in Teeth: Dental Veneers vs Orthodontic Braces
The main function of orthodontic braces is to move the misaligned teeth to their desired position. While the teeth straightening exercise can deliver both aesthetic and functional results, they may be considered rather long and tedious, especially when compared to the procedure for dental veneers.
It can take months or even years for orthodontic braces to correct misalignment issues. If your primary concern with the misalignment lies with the aesthetics of your smile, dental veneers represent incredible time-savings and can be installed in as little as 2-3 dental appointments.
Our team is here to help you. Please do not hesitate to ask any questions you may have about dental veneers. Simply fill out our contact form and we'll contact you quickly to book your consultation. Or, if you'd prefer to talk, please call us on (08) 9328 5027. MAKE AN APPOINTMENT FOR YOUR SMILE!
Call Now 08 9328 5027 or use our booking request form